Projects on Sabbatical: 3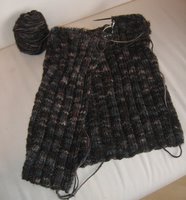 The ribbed men's zip-front cardigan from Last-Minute Knitted Gifts.
I saw
Alison
start this project for her hubby, and was immediately inspired. I had been searching high and low for a great men's pattern for my husband'ss first knitted gift from me (apart from one hat). I had found a couple, but he nixed them right away (and I admit, I wasn't overly enthusiastic about them, either). So when I saw Alison choose this,
and
I realized I carried this book in the store,
and
I picked out some yummy
Manos del Uruguay
, and Kazaam! The ribbed cardy it was.
I started it at the beginning of a ski weekend to Mt. Bachelor with friends from out of town. I got plenty of knitting time in the car (upwards of 8 hours counting the trip there and back, and trips to the PDX airport to collect said friends). And plenty of knitting time in the evenings sitting around playing games. I expected to get plenty of knitting time while everyone else went skiing, since my last foray into the slide-down-the-hill-on-your-ass sport was over 12 years ago and I wasn't too thrilled to go at it again. But - I skied! Yay for me! And I did all right! So the only thing I did in the lodge at the end of the day was drink. No complaints there.
So the status of the sweater at sabbatical time: fronts and back done up to armholes, at which point you are instructed to set it aside and work the sleeves. Somehow you join them in round to the body, a style I have never worked before and am anxious to try out. So this sweater is out in the world, learning more about its meaning and place in my knitting life, and its future in my husband's life. See you in 12 days!