Projects on Sabbatical: 1
So, I thought I'd showcase each day one of the numerous projects that I have sent on sabbatical in order to focus on the Olympics. Each project has been sent off to explore, research, learn about its craft and field, for the next 16 days. When they return to me at the end of the Olympics, they will be refreshed, renewed, and all the more knowledgeable about their purpose in my knitting life.
Project 1: The damn cabled scarf.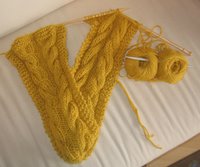 This is the
Cabled Scarf
pattern from Keep It Simple. And it's simple. Which is why I picked it to show off
Cascade Indulgence
, a slow-seller in the store. Indulgence is truly an indulgence, with 30% angora and 70% alpaca. Super soft, fine, beautiful. So, I've doubled the strands to meet the gauge of the scarf, chosen a color that is often overlooked, and started the scarf. About 3 months ago. It has long been languishing on the needles, ignored on purpose while I have been in pursuit of more glamourous projects. There's nothing wrong with it; in fact, when customers see it lying around they often pick it up and pet it, inquire about the yarn, say how lovely it is going to be. This is the purpose of knitting a store model, right? So why can't I just finish the damn thing?
This is why it is on sabbatical. It will be back in 16 days, full of fresh new ideas on why it will be a glorious, finished, cabled, scarf.