Projects on Sabbatical: 7
Surprise, surprise: Another sock.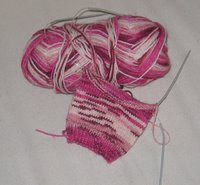 My final project on sabbatical? The pair to my very first pair of socks. I was so excited to successfully teach myself to knit a sock (and on circulars!), that I proceeded to move on to other, more interesting socks, leaving the original without a mate for the last 6 months.
But, I'm sorely needing handknit socks to wear this spring, so I vow to get this guy finished ASAP. Seriously. I promise.