Projects on Sabbatical: 6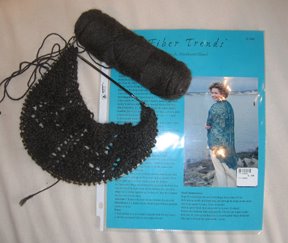 The Pacific Northwest Shawl from Fiber Trends.
I started this shawl about a month ago, when Deb from Cabernet Creek Farms came in with 15 skeins of commercially spun, 100% llama to put on consignment in the store. This stuff feels like buttuh in the hands, I'm telling you. I snatched up a couple of the 3.5oz skeins to use for the Pacific Northwest shawl, something I've had my eye on making since I opened the store. Needless to say, the remaining 12 skeins flew out of the store at an alarming rate, and that was all Deb had left. Six skeins or so went to Alison, who made one of the most beautiful shawls I've ever seen. If I'm nice, maybe she'll let me take a pic next time she's in and I'll post it.
So, I got the shawl started as far as you see in the picture, and then set it down in favor of more travel-friendly projects that didn't require skills such as, oh, paying attention. I'm excited to get back to it, however, after seeing Alison's finished shawl. The llama is some of the softest stuff I have ever felt, and wonderfully light-weight but warm. Yummy.